LUCY - MARSHELSEA ICE CRYSTAL
This is our lovely addition to our little family, Lucy. She was born 15th October 2004 and we brought her home at 8 weeks old.
I am so proud..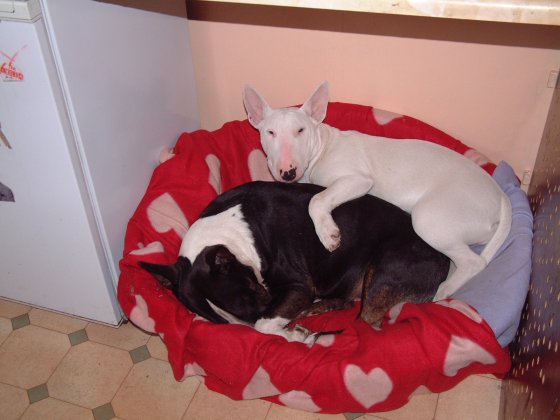 Little cheeky face..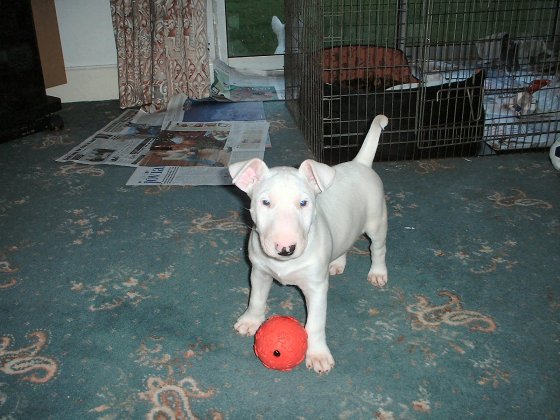 Lucy fashion icon..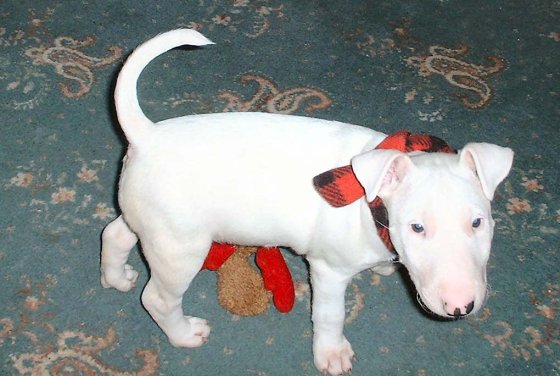 Lucy with scarf..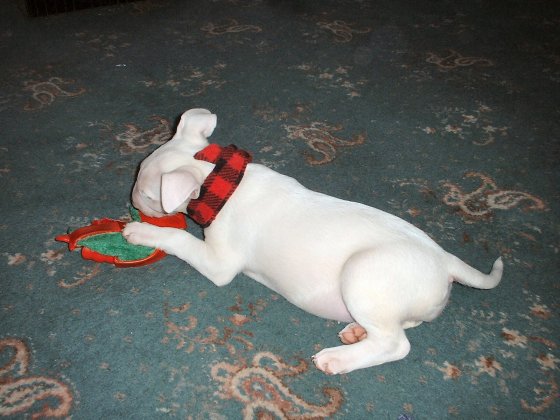 She soon settled in, taking over from a very early age bossing Jack and Jill about. But she has an excellent temperament, just like Jack and Jill. She loves children and other dogs.
Cuddled together..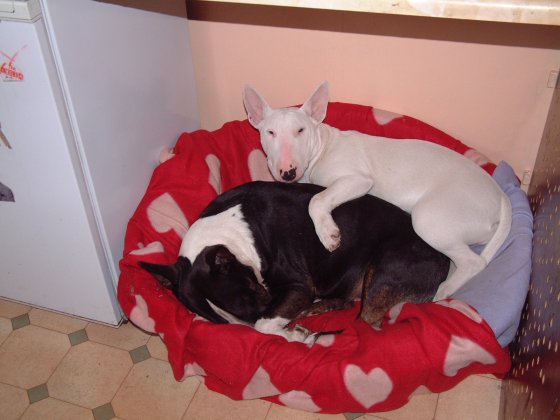 Still cuddled..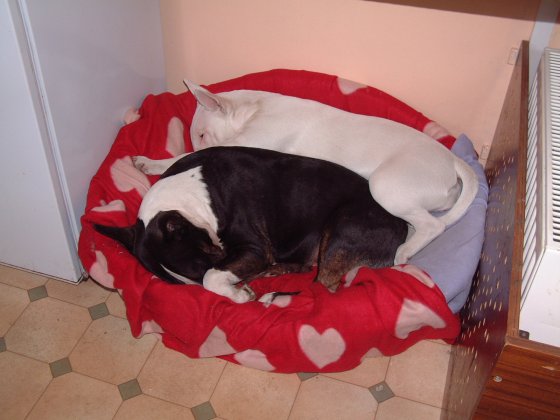 Very cosy here..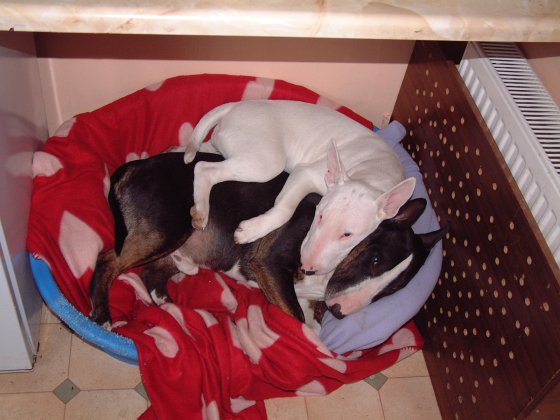 As she has grown, after doing well at the dog training, we took her to the Bull Terrier shows where she has done well. She qualified for Crufts in March this year, 2006 and was placed in the "Special Junior Bitch" where she received her VHC (Very Highly Commended ) certificate.
Going well..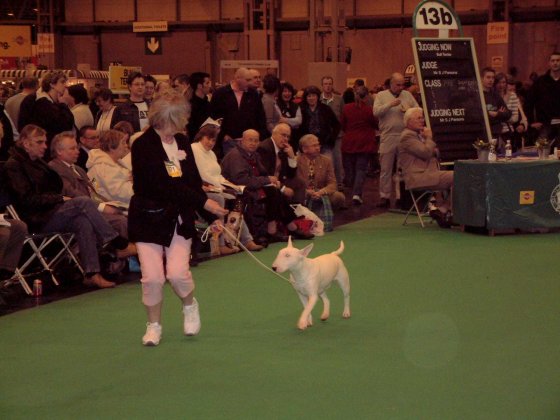 Going better..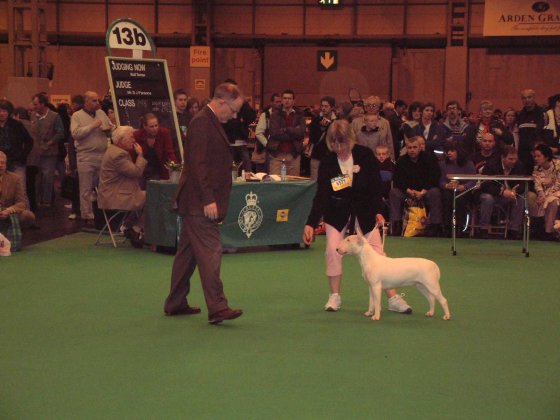 She likes camping and going on the beach, as we have just come back from Cornwall for two weeks.
Love this beach..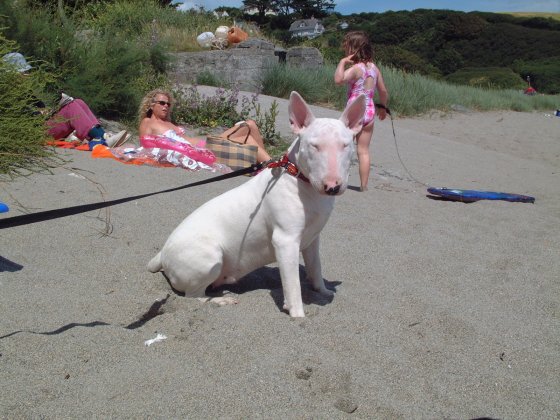 Having a pint or two with mum..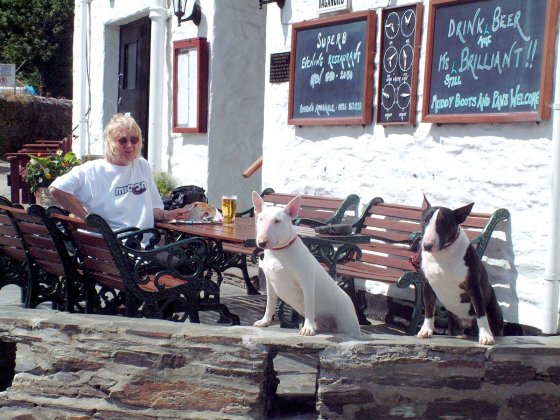 All three of us on the beach: Jack, Jill and Lucy..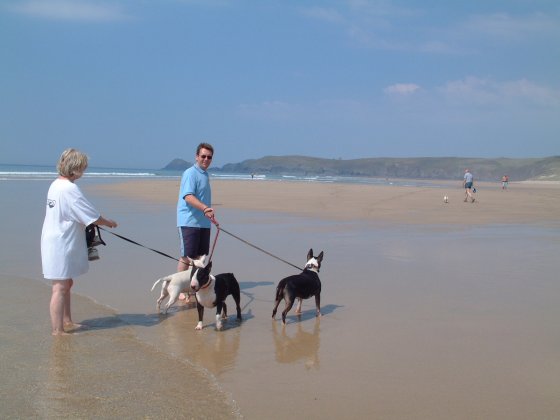 Because Jack and Lucy are HEALTHY and both have a SUPERB TEMPERAMENT, we feel she should have a litter. We feel that these are the TWO MAIN things to be found in a dog.
She will be MATED WITH JACK ANY DAY NOW, AND SHE WILL MAKE AN EXCELLENT MUM.
UPDATE 2nd October 2006
Lucy gave birth to 6 BEAUTIFUL BULL TERRIER PUPPIES.
ALL COLOURED (BLACK, WHITE AND BRINDLE)
4 BOYS and 2 GIRLS
View details of Lucy's PUPS